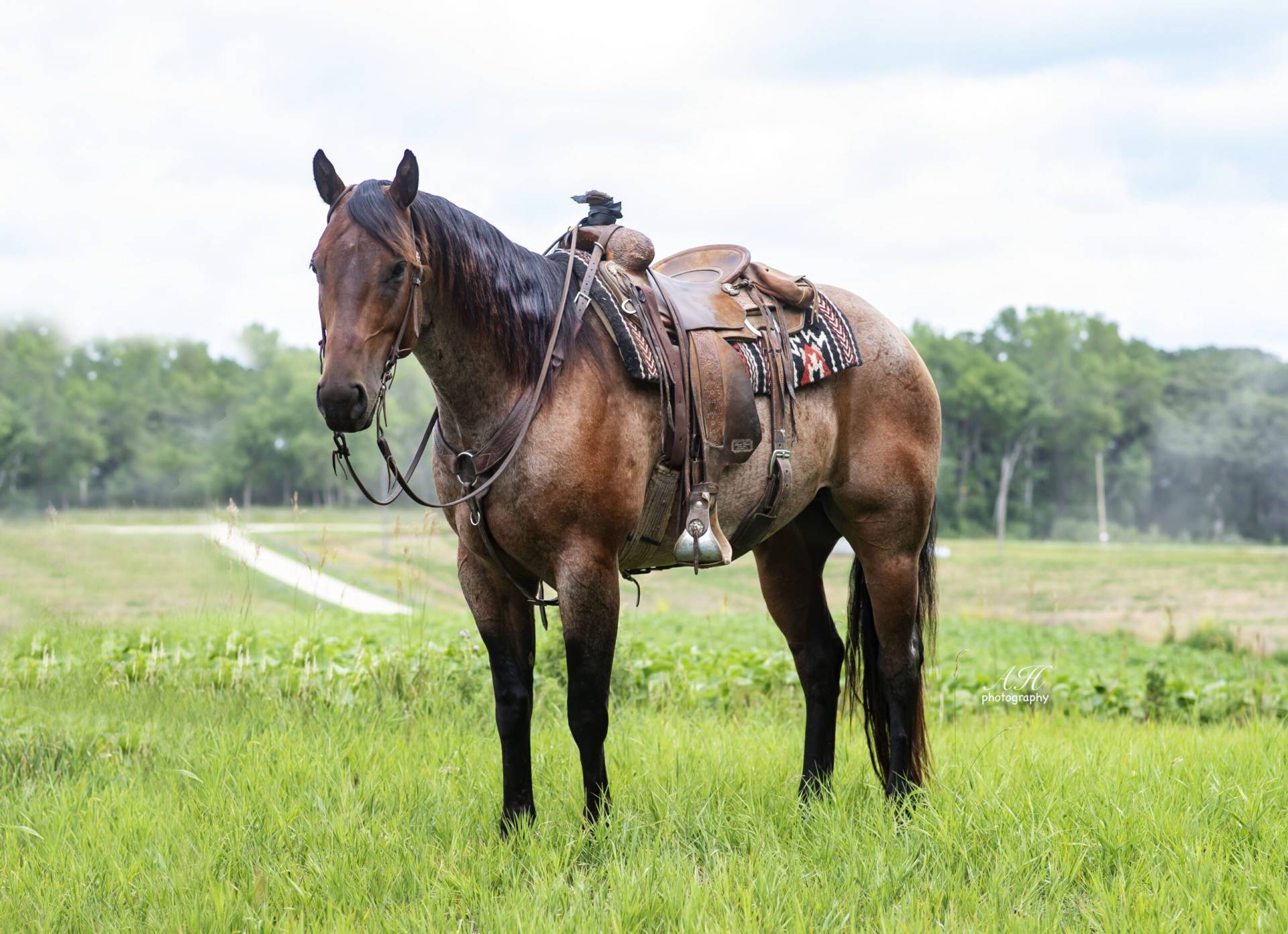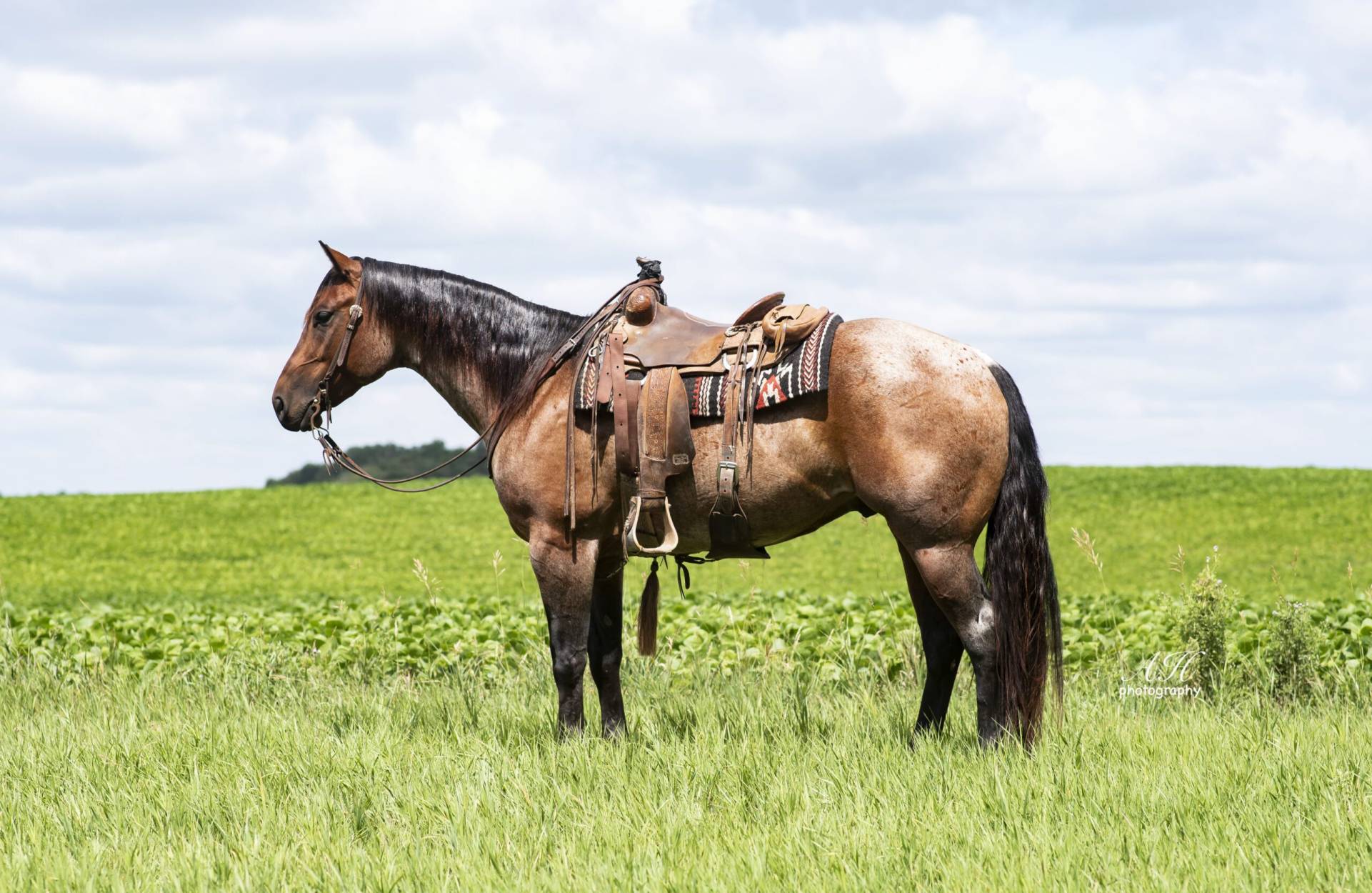 2018 AQHA Gelding
15.2 hh
Big, beautiful, extra kind and gentle are all words that describe Leo. He is not only a beautiful full made bay roan gelding with gorgeous mane and tail, he is puppy dog gentle.
Leo has such a kind soul, and really wants to please his rider. He is trained in the arena as well as a blast to ride outside. His gaits are extremely smooth, and he is easy to ride. In the arena Leo has a gorgeous jog trot, great lope departures, a smooth as they come lope, and he is soft in his face and sides. He has a natural carriage that is breathtaking. He keeps his head low and lopes slow and easy. He has the perfect size and movement to be ridden western or English.
No matter what Leo is doing he looks good doing it.
Leo is also a perfect partner down the trail. He is relaxed and easy outside. He will cross water, deadfall and any obstacle in his path. He is used to waterfowl and game, and he is not bothered by our crazy lifestyle of dogs, pigs, and mini donkeys running around him.
He is a very reliable partner. Leo has been hauled to many different venues to ride as well as rodeos and has been used for a judge horse. He has been exposed to many different elements and always takes everything in stride, and is willing to do what you ask.
This is a very smooth moving, easy to get along with gelding that is easy on the eyes. English or western, ride him any way you would like.

Alise Holst & Colton Thorson
Triple T Livestock
Fergus Falls, Minnesota
507.951.7880
Here at Triple T Livestock we focus on finding the right horse for the right rider, a good fit is what is important to us.
Horses have been apart of Coltons life since he was a little boy. He has been involved with horse sales and rodeos his entire life winning many championship buckles and all around titles. He not only has a passion for riding horses, but has always been involved in driving horses as well. Colton spent some time working as an outfitter in the mountains of Wyoming, and enjoys using horses for hunting and pack trips. Colton loves the cowboy way of life and uses our horses for real jobs. He enjoys branding in the spring and day working. He believes that really puts the foundation on our horses before we take them to the arena.
Alise did not grow up with horses, but it was always a dream of hers to train horses. In college she really got the opportunity to train horses, ride reining and cow horses, and that became her passion. She loves getting a horse soft and supple in the arena, and believes that a good foundation is key. Today, Alise loves taking her horses up the mountain, using them for hunting, pack trips, and trail rides. She believes that's what really makes a horse. She also loves branding in the springtime and summers are filled with rodeos and ranch work.
We will work with your skill level, your budget, and your needs to find you the best horse for you. We offer a variety of horses from finished rope horses, to prospects, and we also have a passion for work horses, and crossbreds.
We offer such variety but what is most important to us is getting the right fit for you. We mainly focus on a user friendly and gentle horse in all the disciplines that we choose. A good foundation is very important to us.
Winter finds Triple T Livestock in Arizona where we really focus on team roping and the breakaway roping horse.
We believe a good ranch foundation makes a horse experienced and ready for any task they may be asked to do. First and foremost we strive to make sure the horses we offer have been hauled and seen a lot of country.
Combining a love of what we do with a passion for fitting the right horse to the right owner, we work to create well rounded, versatile horses, that have the experience and training to take in any direction.